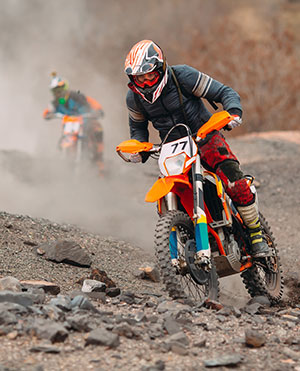 At Art of War Suspension Technologies, we understand the passion and dedication motocross riders bring to their sport. Rebuilding your dirt bike forks is integral to maintaining it. While relying on YouTube videos for guidance may be tempting, there are several compelling reasons to refrain from doing so with your dirt bike fork rebuild.
Lack of Expertise. While YouTube videos are great for learning new skills or fixing minor problems regarding your dirt bike's suspension, relying on professionals with years of experience in the field is critical. Our team has extensive experience working with factory-level motocross suspension systems. By using a professional service, you ensure that your bike is in the hands of experts familiar with the suspension system's complexities.
Component Quality. A proper fork rebuild necessitates using high-quality components such as Showa and KYB. When watching a YouTube video, you may be tempted to buy cheaper, lower-quality parts to save money. This, however, may result in a subpar rebuild that may even harm the performance of your bike. We only use high-quality components to ensure a dependable and long-lasting fork rebuild.
Specialized Tools. Rebuilding a dirt bike fork necessitates using specialized tools you don't have in your garage. Purchasing these tools can be costly, especially if you use them once. A professional suspension service already has the tools and equipment to complete the job.
Warranty and Support. If you rely on a YouTube video to rebuild your fork, you have no recourse if something goes wrong. You can have peace of mind knowing that your rebuild is backed by a warranty and ongoing support from our experienced team.
Contact us to leave your fork rebuild to the professionals and reap the benefits of a well-tuned suspension system.